Colours
Shirewood Bedrooms has absolute confidence that within our outstanding range of carcass colours, you're sure to find a colour you love.
Our carcass colours range from the neutral tones of whites, creams and greys to more striking matt green, blues and reds, through to the traditional woodgrains of Maples, Beeches, Oaks and Walnuts. And much, much more!
Our fitted bedrooms has an extensive range of door and drawer front colours from traditional woodgrains to modern high gloss fronts and including matt finishes.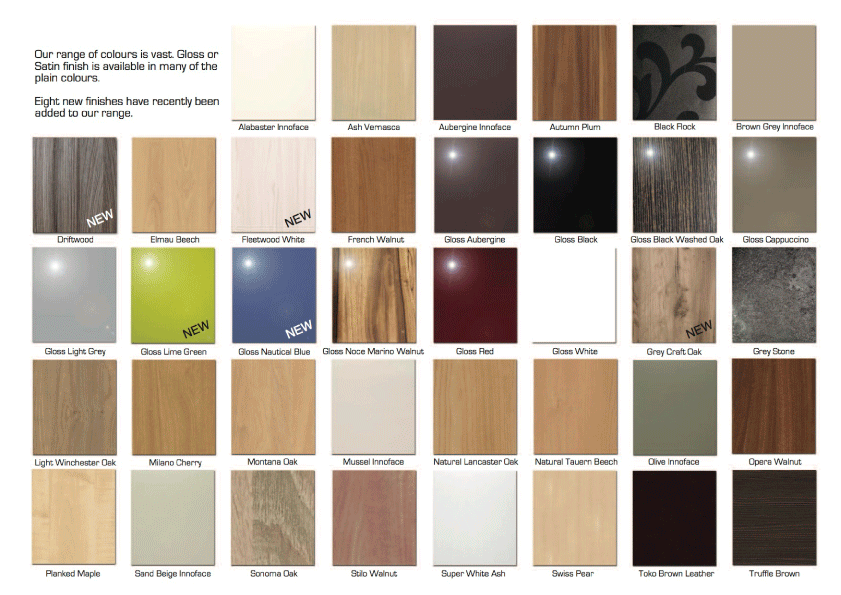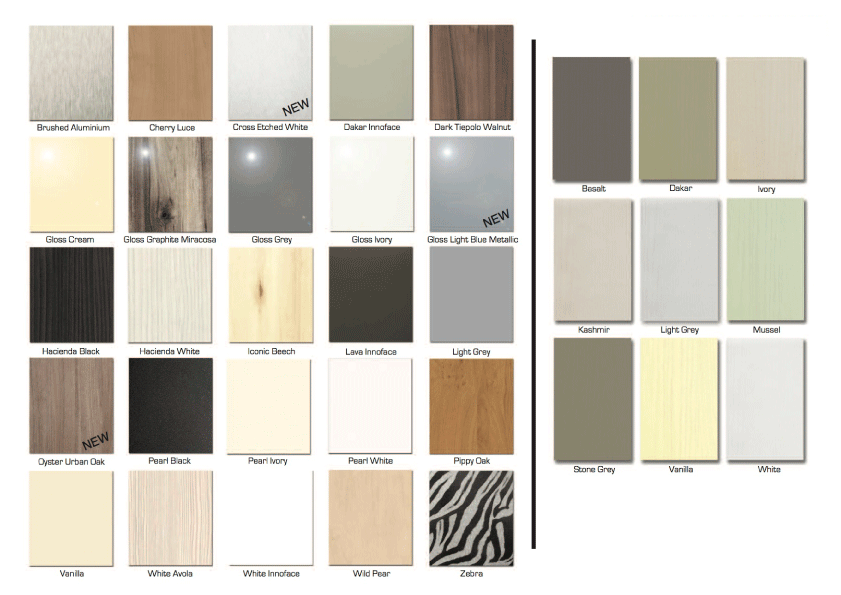 Carcass Colours
Egger board
Porcelain, Alpine White, Premium White, Platinum White1 , Platinum White 2, Basic White, Light Grey, Silver Grey, Dust Grey, Graphite, Black, Alabaster, Vanilla, Crema, Magnolia, sand Beige, Malaga, Mocha, Mussel. Dakar, Olive, Stone Grey, Brown Grey, lava, Saffron, Pistachio, Moss, Ice Blue, Denim, Steel Blue, Yellow, Red, Burgundy, Green, Blue, Aubergine, Premium White, Pearl Grey, Black, beige Linen, Silk Fibre, Brown Leather, Quartz Silk, Quartz Cubanit, Quartz Inox, Quartz Glass, Titanium, Aluminium, Terrano Grey, Terrano Black, Light Concrete, Basaltino Grey, Artwood Light, Splitwood, Sand Zebrano, Coco Bolo, Natural Urbano, Natural Caribbean Walnut, Dark Cordoba Olive, Wenge, White Avola, Champagne Avola, Green Grey Avola, Brown Grey Avola, Truffle Brown Avola, Country Montana Larch, Hacienda White, Hacienda Black, Amazonas, Driftwood, Mali Wenge, Grey Beige Zebrano, White Swiss Larch, Light Lakeland Acacia, Sand Lyon Ash, Natural Mandal Maple, Natural Canadian Maple, Maple, Mainau Birch, Pearwood, Natural Tauern Beech, Ellmau Beech, Bavarian Beech, Natural Calvados, Light Venetian Cherry, Romana Cherry, Autumn Plum, Tirano Pearwood, Matfen Chestnut, Brown Cassino Ash, Natural Aragon Oak, Light Ferrara Oak, Natural Montana Oak, Light Winchester Oak, Winchester Oak, Light Calais Oak, Natural Lancaster Oak, Natural Arlington Oak, Grey Bardolino Oak, Grey Nebraska Oak, Thermo Oak, Black Brown Ferrara Oak, Natural Pacific Walnut, Tobacco Pacific Walnut, Grey Brown OntarioWalnut, Natural Dijon Walnut, Natural Aida Walnut, Tobacco Aida Walnut, Tobacco Gladstone Oak, Natural Tortona, White Cape Elm, Grey Beige Gladstone Oak, Sand Gladstone Oak, Lava Tortona, Dark Brown Cape Elm, Stone Grey, Premium White, Sand Orleans Oak, Brown Orleans Oak, Sand Provencial Elm, Natural Bardolino Oak, Truffle Brown Bardolino Oak, Natural Ash, Highline Oak,Thermo Pine, Jackson Pine, Cashmere, Truffle, Vino, Ceramic Rust, Ceramic Anthracite
Front Colours
Alabaster Innoface, Ash Vernasca, Aubergine Innoface, Autumn Plum, Black Flock, Brown Grey Innoface, Drift Wood, Ellmau Beech, Fleetwood White, French Walnut, Gloss Aubergine, Gloss Black, Gloss Black Washed Oak, Gloss Cappucino, Gloss Light Grey, Gloss Lime Green, Gloss Nautical Blue, Gloss Noce Marrino Walnut, Gloss Red, Gloss White, Grey Croft Oak, Grey Stone, Light Winchester Oak, Milano Cherry, Montana Oak, Mussel Innoface, Natural Lancaster Oak, natural Tauern Beech, Olive Innoface, Opere Walnut, Planked Maple, Sand Beige Innoface, Sonoma Oak, Stilo Walnut, Super White Ash, Swiss Pear, Toko Brown Leather, Truffle Brown, Brushed Aluminium, Cherry Luce, Cross Etched White, Dakar Innoface, Dark Tiepolo Walnut, Gloss Cream, Gloss Graphite Miracosa, Gloss Grey, Gloss Ivory, Gloss Light Blue Metallic, Hacienda Black, Iconic Beech, Lava Innoface, Light Grey, Oyster Urban Oak, Pearl Black, Pearl Ivory, Pearl White, Pippy Oak, Vanilla, White Avola, Wild Pear, Zebra, Basalt, Dakar, Ivory Kashmir, Light Grey, Mussal, Stone Grey, Vanilla, White